What Is a Robotic Sewer Crawler Inspection and Why Is It Important?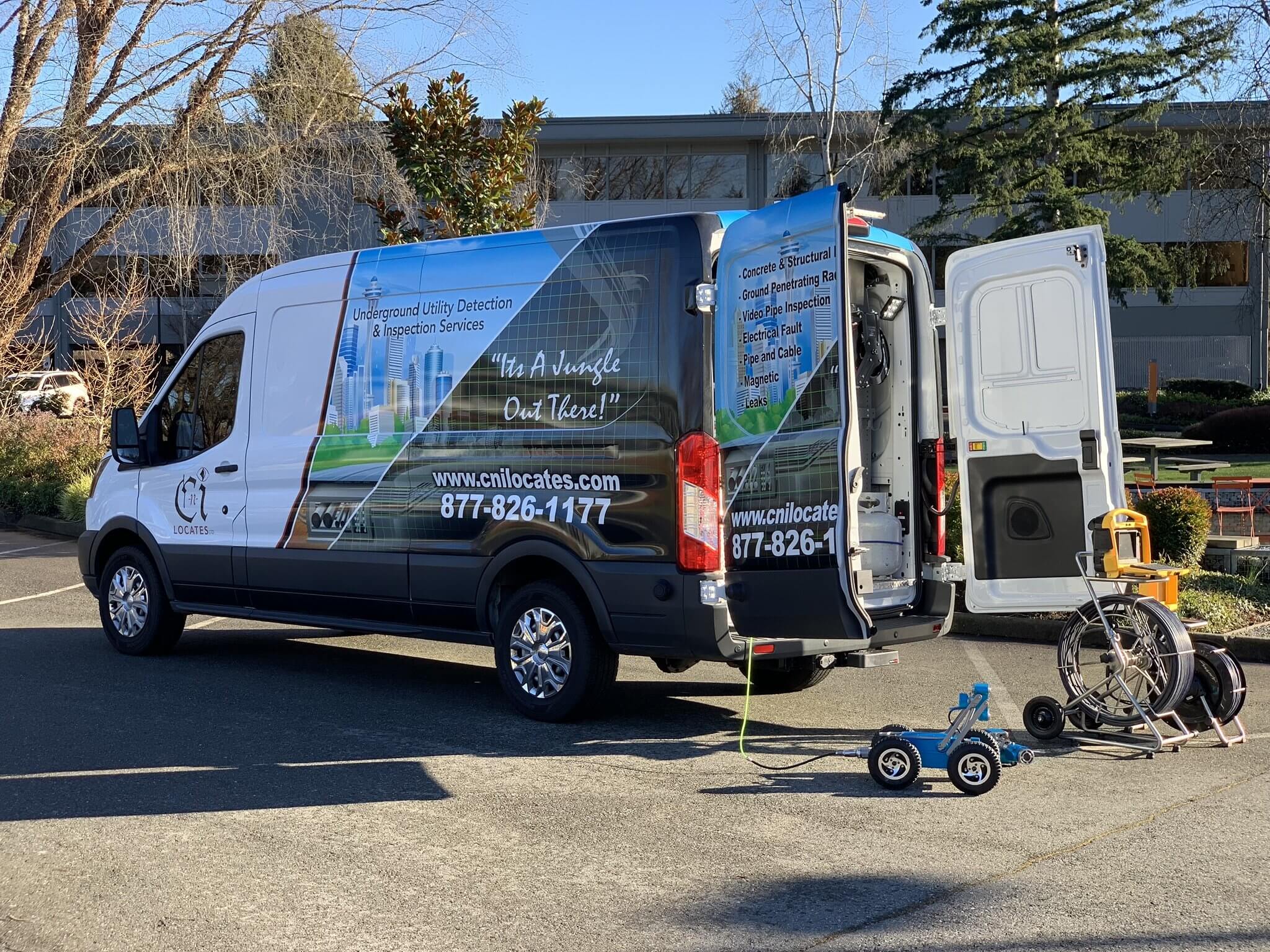 CNI Locates Crawler Closed Circuit Television (CCTV) Video Pipe Inspections are used on pipes 4″-48″ and up to 1,000 feet in length. It is accomplished by introducing a robotic crawler into the pipe to locate, inspect, and video record the condition. The crawler records a high-definition inspection video and stores it in the control unit. When a defect in the pipe is identified, we can type a text onto the screen, and the default information is overlaid on the video. The real-time information on the sewer crawler can be displayed by adjusting the functional buttons, including pitch angle, pressure, distance, date, time, etc.
Reasons Why You Would Need a Crawler Inspection Service
Any pipe that is 6+ inches in size can cause a standard push pipe video camera to coil up inside the pipe, potentially limiting us from pushing the full distance of the pipe. When this happens, we need to use a robotic sewer crawler to locate the full distance of the pipe. Also, any pipe that is 4+ inches and is over 300 feet in length will require a sewer crawler since our standard push cameras can't insert more than 300 feet. Our sewer crawler service is able to drive up to 1000 feet inside of a pipe as long as there aren't any limitations preventing us from going further.
There are multiple reasons that someone could be having problems with the sewer or drainage pipes on their property. In order to identify the problems inside your pipe, you must hire a utility detection and inspection company to provide video camera pipe inspections. CNI Locates offers two different video camera pipe inspection services, the first is our pushsewer video inspection cameras, and the second is our robotic sewer crawler inspection cameras. These cameras inspect pipes, provide pipe locating services, mark the location of problems inside of pipes, provide detailed videos/reports, provide depth assessments, etc. Below are some of the general reasons to get a sewer pipe inspection on sewer, drainage, or other types of pipes. 
Blockages from foreign objects inside the pipe (e.g., food scraps, hair, wipes, dental floss, fats, oils, coins, toys, etc.). Blockages prevent a pipe from being able to drain properly. If blockages are left untreated the sewage and wastewater will eventually build up and could start backing up out of drains/pipes, causing horrible smells or even causing the pipe to burst. 
Breaks in the pipe. Breaks can be caused by multiple factors (e.g., corroded pipes, poor installation, recent subsurface work, environmental conditions, punctures, blockages, etc.). If a break is left untreated, it could cause health concerns, sinkholes, rodent infestations, etc.
Corrosion inside the pipe from sulfide gas caused by sewage. Corrosion causes the pipes to crack or split at the seam creating leaks. If corrosion is left untreated, it could lead to leaks, misalignment, or even cause a pipe to collapse. 
Damages to pipes from construction. Pipes can be damaged during excavation, fence post installations, driving rebar or ground rods into the ground, retaining wall installations, soil compaction, or any other type of subsurface work. If damages are left untreated, it could cause health concerns, sinkholes, blockages, misalignments, rodent infestations, etc.
Frozen Pipes. Frozen pipes are caused by temperatures dropping below freezing around pipes that are full of water. It causes pressure to build up inside pipes leading to blockages, leaks, breaks, etc. 
Misalignment in the pipe. Shifts in the surrounding soil or leaks commonly cause misalignments. If misalignments are left untreated, the pipes could crack, leak, collapse, etc., over time.
Leaks inside the pipe. A leak can be caused by multiple factors (e.g., breaks, corrosion, damages, frozen pipes, misalignments, root intrusion, etc.). If a leak is left untreated, it could lead to health concerns, erosion in the area (causing sinkholes), rodent infestations, damage to your home's foundation, etc. 
Root intrusion inside the pipe. Root intrusion is caused when roots work their way into a pipe over time. If left untreated, root intrusion can cause blockages, breaks, leaks, misalignments, etc. 
Hire Our Experts to Video Inspect Your Pipes
CNI Locates offers an array of utility detection and inspection services in all of Oregon and Washington State. We have field office locations in Everett, WA; Renton, WA; Seattle, WA; Tacoma, WA; Eugene, OR; and Portland, OR. CNI Locates has been Oregon and Washington's leader in subsurface utility detection and inspection services for 20+ years. Contact our knowledgeable experts at CNI Locates to schedule a service at (877) 826-1177 or email [email protected] to schedule a service within 24 hours' notice, Monday – Friday.