Information About Video Pipe Inspections (VPI)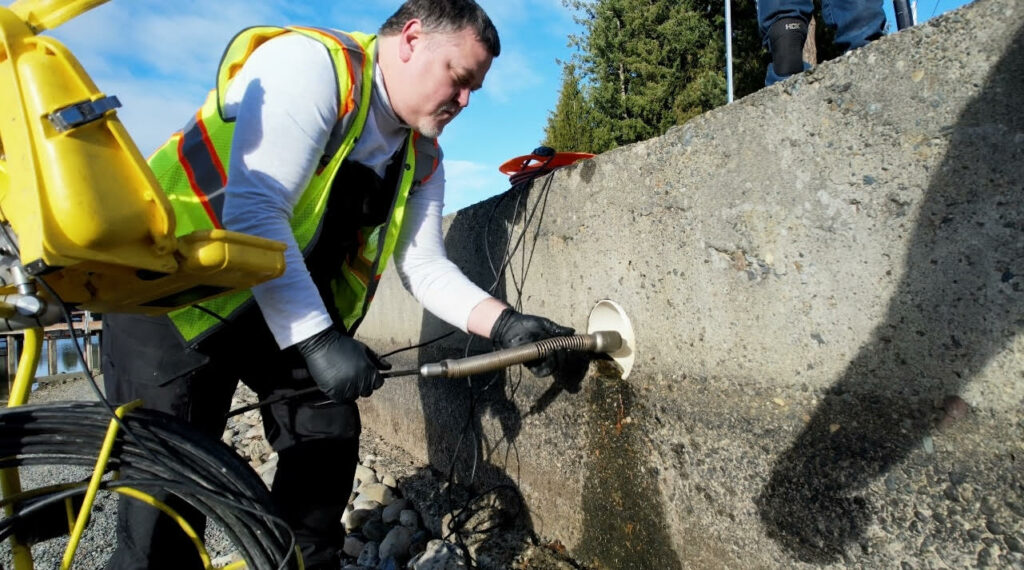 Video pipe inspection cameras are an essential tool for anyone who wants to maintain the integrity of their plumbing system. They provide a non-invasive, accurate assessment of the condition of pipes, drains, and sewer lines. By providing real-time footage, such inspections can help diagnose plumbing issues and prevent potential problems from becoming serious hazards. With the information provided by CCTV pipe inspection services, technicians can provide more accurate and effective solutions, leading to cost savings and peace of mind. 
So, if you're experiencing plumbing issues or want to prevent them from occurring again and again, consider getting a pipe inspection from a professional at CNI Locates. You'll be able to see inside your pipes and take the necessary steps to maintain the health of your plumbing system. This write-up will explore what a video pipe inspection is, why it's important, and how it can benefit you.
What Is a Video Pipe Inspection (VPI)?
A video pipe inspection (VPI) is a non-invasive method of evaluating the condition of pipes, drains, and sewer lines using a sophisticated camera system. The camera inserted into the pipe has a locatable head and sends live video footage to a monitor, allowing the technician to locate the pipe and view the inside of the pipe in real time. This technology allows for a more accurate assessment of the pipe without the need for excavation or other invasive procedures.
Why Is Video Pipe Inspection Important?
Property owners may not be aware of what's going on inside their pipes. Plumbing issues such as leaks, clogs, corrosion, etc. can be difficult to detect without invasive procedures. Luckily, a video pipe inspection provides a non-invasive solution to plumbing problems. Using a sophisticated camera system, video pipe inspections allow you to see inside your pipes, drains, and sewer in real time, helping to diagnose and prevent plumbing problems accurately. Video pipe inspections also help identify if other pipes are connected to the pipe that is being inspected, which allows utility locators to identify the connection point.
Common Uses of Video Camera Pipe Inspections
Video pipe inspections are commonly used for diagnosing plumbing issues such as blockages, breaks, corrosion, damages, frozen pipes, misalignments, leaks, root intrusion, etc. Video pipe inspections help with preventative maintenance, by helping identify potential problems before they become hazards. These inspections are particularly useful for locating blockages and other issues in hard-to-reach places, such as sewer lines and underground pipes. Additionally, video pipe inspections are used for utility locating to help identify the location and depth of pipes.
What Information Can Be Provided by a Video Pipe Inspection?
Video pipe inspections can provide valuable information about the pipe's condition, including cracks, corrosion, and other damage. The video footage can also help identify blockages, obstructions, and other issues that may be affecting the flow of water or sewage. Additionally, our inspection services can help identify the cause of the problem, such as tree roots, debris, or other foreign objects.
Our locatable video pipe inspection cameras have the ability to display the length pushed inside the pipe and text on the screen describing issues. They are also weather resistant and have digital zoom, pan, and rotation features. When our technicians are done locating your pipe, providing depth assessments, and providing the video pipe inspection they can provide you with a copy of the video to reference in the future.  CNI Locates technicians also have the ability to put the information from the video/work area into a detailed report (if necessary)
Different Types of Video Pipe Inspections (Push Camera & Crawler)
There are two main types of sewer pipe inspections: Push Cameras and Crawlers. 
A push camera is a smaller, more portable camera system that can be easily maneuvered through pipes and drains. These cameras are recommended for pipes 2" to 8" and under 300' in length. 
A crawler is a larger, more sophisticated camera system that can move through larger pipes and provide more detailed information about the pipe. A crawler is recommended for pipes 6" to 48" and up to 1000' in length.
How Video Pipe Inspections Help Compliment Our Other Services?
Video pipe inspections can be used in conjunction with other utility detection and inspection services, such as magnetic detection, metallic line detection, non-metallic pipe detection, ground penetrating radar, leak detection, and more. Video pipe inspections help identify the location of pipes that cannot be located with our electromagnetic transmitters/receivers and help identify if there are other pipes connected to the pipe being inspected that wouldn't be found unless a video pipe inspection was provided. They can also help find buried manhole/catch basin covers by providing a visual/location of the next manhole.
Contact CNI Locates to Get Professional Video Pipe Inspection Services!
Our expert technicians at CNI Locates provide valuable information about the condition of the pipe through video pipe inspection, help identify the root cause of issues, and can help prevent future problems. At the same time, these inspections conducted by our experts complement other services, allowing for a more accurate and effective solution to problems.
In addition, CNI Locates offers a wide range of underground utility detection and inspection services provided by our expert technicians. Our comprehensive services include aerial drone imagery, design survey locating, electrical fault detection, ground penetrating radar, leak detection, magnetic detection, metallic line detection, non-metallic line detection, plastic water pipe detection, public and private utility locates, sewer crawler inspections, sophisticated reports, structural and concrete imaging, utility mapping, video push camera inspections, and much more across Oregon and Washington State. 
Should you have any inquiries about our services, whether they are specific or general, please do not hesitate to get in touch with us at (877)826-1177 or by email at [email protected]. We are happy to provide further details about all of the services that we offer.